Bonjour à tous
I have a conventional thermal solar installation, 18m2 of self-building collectors, a 1000l boiler (too small) including 300 for DHW, all with Resol regulation. I have a cap that takes over in winter.
As the children grew up, we installed an above-ground swimming pool in front of the house, around 15m3. On the other hand, as we are at altitude (nearly 900m), the water struggles to heat except during a heat wave and it is sometimes difficult to motivate children to go for a swim.
I thought of using my solar installation to heat my swimming pool.
I found a pool exchanger, simple and that seems effective, sold second-hand for a bite of bread. It worked with a 40m3 installation, so it should be OK with my 15m3 pool.
As a reminder, my solar field is in a slope in front of the house (lower than the house), I have about 40m of pipe up to my boiler, on which the hydraulic group is fixed. The pool is against the house where the pipes from the solar field pass.
However, I would like to know how to plan the modification of my current installation for this assembly?
Here is the schematic diagram of my assembly: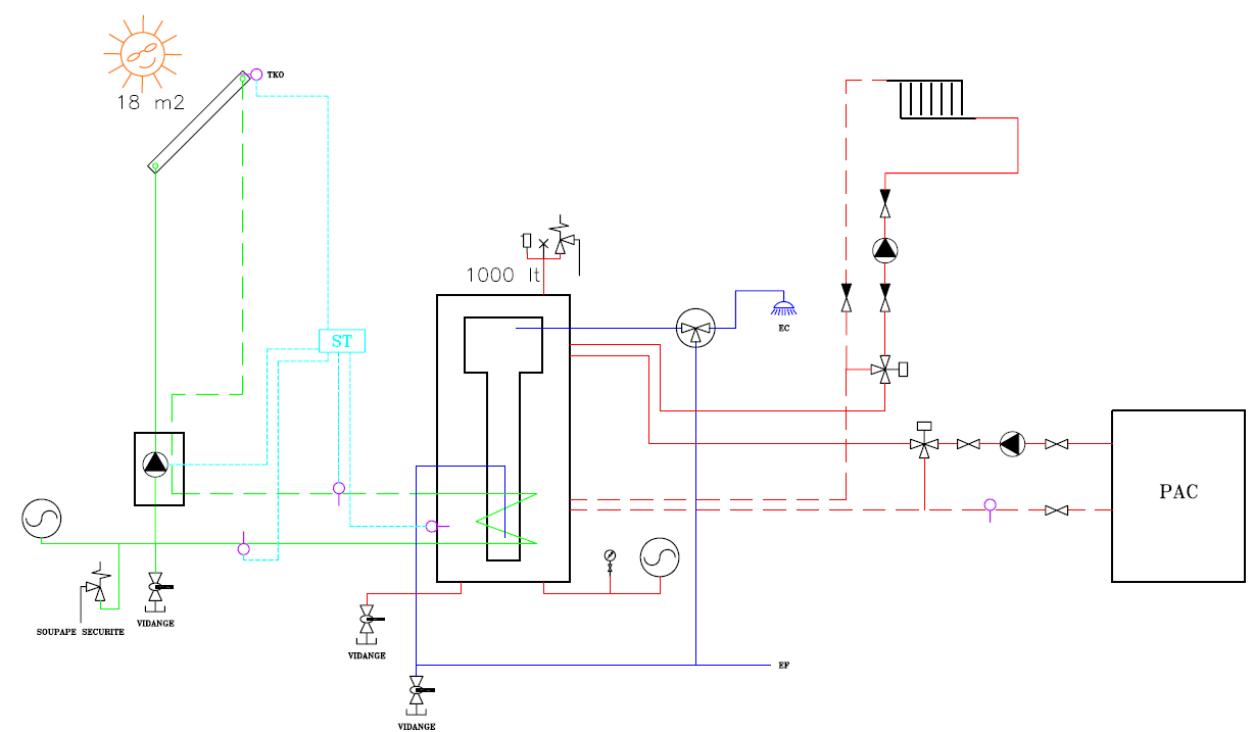 I think the idea will be to add a 3-way valve which will send the water from the collectors to my boiler as long as the water is not hot enough in the latter, then to divert the water into the heat exchanger. pool once the boiler water is warm enough. So I will need gear:
- a 3-way valve controllable by my regulation
- a T for return to the circuit (or do you need a 2nd piloted valve?)
- a pump for this new circuit, because my pump is now glued to my boiler (and therefore about 10m linear farther than the exchanger)
- a few meters of stainless steel tube and crimp fittings.
The idea would then be to create a "short circuit" which passes from the solar field to the pool exchanger, then returns to the solar field. And when the water in the boiler is too cool then it closes the short circuit and goes as usual in the long circuit to my boiler. And it would be necessary to regulate the regul on a double circuit, the normal one like today, then a 2nd which is activated (by modifying the circuit on the short), cuts the pump of the long circuit and activates that of the short circuit, and turns until the temperature is not X degrees in the pool?
Am I right or am I missing the plate?
Thank you for your help and your invaluable advice, in this period of confinement it is saving to have some projects!